Middleton Borough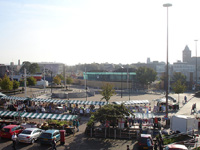 The name Middleton is an Old English placename, very common, and meaning in general 'middle town, estate or settlement'.
The Borough of Middleton was inaugurated on 21st July 1886. In forming the new borough the former townships of Middleton and Tonge, Alkrington and parts of Hopwood and Thornham were incorporated.
The Middleton Coat of Arms was granted by the College of Arms from the time of the town's incorporation in 1886. The Middleton Coat of Arms was in use by the town until 1974 when the borough became part of the Metropolitan Borough of Rochdale and Middleton Council was abolished.