JW Lees & Co. Brewers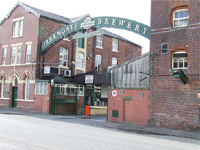 The brewery was formed in 1828 when retired cotton manufacturer John Lees purchased some land in Middleton. There he built Greengate Brewery, from which the company still operates. The company was renamed J.W. Lees & Co. Brewers, when John Lees' grandson, John William Lees, took over the company in 1876.
Its core brands are JW Lees Bitter, Golden Original, and Moonraker.